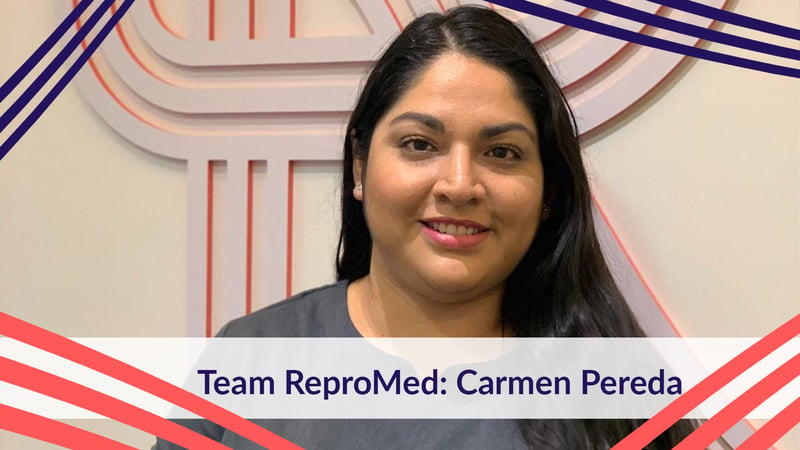 The fifth participant of #TeamReproMed series brings a bit of the Spanish and Latin American heritage to our multi-professional and cultural company! A recent addition to our Administrative Team, Carmen Pereda is with us for the last six months now, and has loved every moment of it. Originally from Peru, she found us thanks to a college course mate and is already helping our patients a feel even more welcomed to our clinics!
Tell us a little about yourself.
I joined ReproMed after finishing a course to become a Medical Secretary. I don't have a background in Fertility, but I was very excited and willing to learn as much and as quickly as possible. I'm originally from Peru and lived in Barcelona for 13 years before moving to Dublin with my husband. I'm only in ReproMed for six months but love it so far. I get on really well with my colleagues, and every day is different.

How did you find yourself working in the field of fertility?
Purely by chance! I was studying to become a medical secretary, and I saw a job advertised. One of my fellow course-mates was working in ReproMed, so I applied for the role.
I find fertility so compelling, it is an amazing world where our team can create life. Obviously, it is a difficult journey for our patients, and sometimes there are some tears along the way but that's why I am proud to work with the ReproMed team, they are kind and always thinking about what is the best for our patients.
How does your role support patients?
I always do my best to make them feel welcome when they are coming to the clinic and try to answer any questions that they may have during their time with us.

My role varies but usually I am at reception, where I welcome all our patients and ensure that everything at the front-desk is running smoothly. This also means that sometimes I have to make sure the rest of the clinic is running smoothly and on time also!
I really love interacting with our patients face to face. I'm realising with every day I spend working here, how much people appreciate a warm welcome or a kind good luck as they leave.

When I am not at the reception, I am helping patients by answering the queries through our brand new Patient Portal or talking to them over the phone.

When might someone meet you on their treatment journey?
Patients meet me at reception when they are coming to their appointments.

What is the most rewarding part of your job?
The most rewarding part of my job is being able to help our patients as soon as possible as we all know that going through a fertility treatment can be very stressful.
When a patient gets a positive result, it's the most wonderful feeling, not just for me but for all the staff in the clinic. Knowing that when they get their positive result that they are starting a lovely new chapter of their life is extremely rewarding for me, I can't help but feel happy for them.
Thanks so much Carmen, for taking the time to answer our queries and to allow ReproMed's fans, followers and patients to get to know you a bit better.
Leave a comment on any of our Social Media channels if you want to suggest our next interviewee and click on the following links to read the first, second, third and fourth episodes of the series.