Date: 27/Oct/2021
Author: Maura Gallahue
Category:
AMH, assisted reproduction, BabyScan, Clinical Pregnancy Rates, Egg Donation in Ireland, egg freezing, fertility, fertility check, fertility treatments, Hormone Blood Tests, in-vitro fertilization, IVF, IVF Success Rates, ReproMed Success Rates, testing, midwife, nurse, Fertility Specialists, freezing embryos, repromed galway, #Same-Sex-Couple, fertility journey, pregnancy, unexplained infertility
Big news! ReproMed is now open in Cork.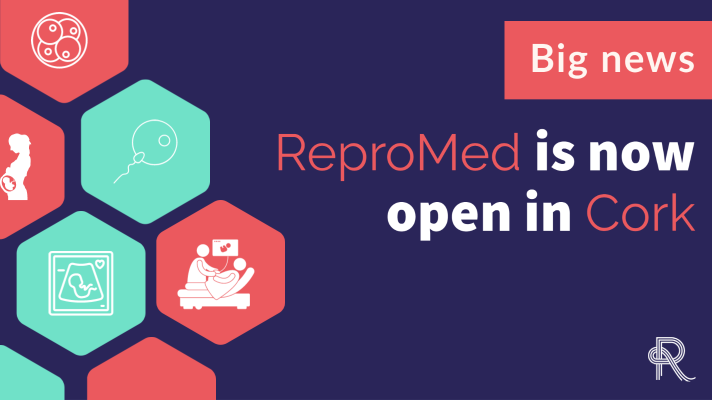 We have an exciting announcement to make!
ReproMed is EXPANDING! As we continue to grow we are thrilled to announce the reopening of our new clinic in Cork! This clinic will be a satellite of ReproMed Galway and will serve as a convenient location for our Munster and South-West clients looking for the very best in fertility treatments and care.
First things first and for those of you who may not have come across the term 'satellite clinic' before, let us explain what exactly it is and what you can expect.
What is a satellite clinic?
We know that travelling to appointments can be time consuming. The aim of the satellite clinic is to make treatment more convenient for you by offering the same exceptional care, closer to home. It's to give people wider access to our fertility expertise and our range of treatments, and to provide this we have a number of satellite clinics based in Kilkenny, Drogheda and now our latest clinic offering in Cork.
Our clinics are in convenient locations nationwide where all your initial treatment investigations, treatment planning and scans will be carried out. Our newest satellite clinic in Cork is a satellite of one of our main IVF clinics in Galway and so ReproMed Cork can provide you with all your initial treatment investigations and you will only travel to ReproMed Galway for your main IVF treatments such as egg collection and embryo transfer etc.
Service offering
If you become a patient at ReproMed Cork you will have your online consultation with one of our expert doctors and following this all of your nurse consultations, diagnostics and ultrasound scans will be based in Cork. Patients will only travel to Galway for your main IVF procedures
Our sister company ReproScan is also based in the Cork clinic and can offer satellite fertility scans for patients who have opted to go abroad for IVF treatment. Our resident sonographer can also perform early pregnancy scanning from 6 weeks until 12 weeks.
Meet Aoife - ReproMed (& ReproScan) Midwife Sonographer in Cork
Aoife graduated from University College Cork in 2013 with an Honours degree in Midwifery and moved to London in 2014 where she specialised in fertility. She was trained in pelvic ultrasound by Professor Stuart Campbell in 2016 and completed the BFS pelvic ultrasound module in 2018. Over the past 7 years she has worked in 3 IVF units between London and Cork including deputy Midwife manager in IVI London and Midwife manager in Sims Cork.
She has always been passionate about women's health from fertility preservation right through to antenatal, intrapartum and postnatal care. In her current role she is split between ReproMed and ReproScan which allows her to care for women during their fertility journey and also provide ultrasound services right up until 12 weeks of pregnancy.
ReproMed Cork opening hours:
Mon, Tues, Wed 8am - 4pm
Thurs closed
Fri 8am - 2pm
Our Munster clients can expect the same standards of excellent care that ReproMed is synonymous with. Our expert team offers customised care and fertility treatment tailored to each individual on their journey to parenthood. Our aim is always to provide you with the highest quality service in a supportive environment, giving you the best chance of success.
Exciting times ahead! We can't wait to welcome you through the door!